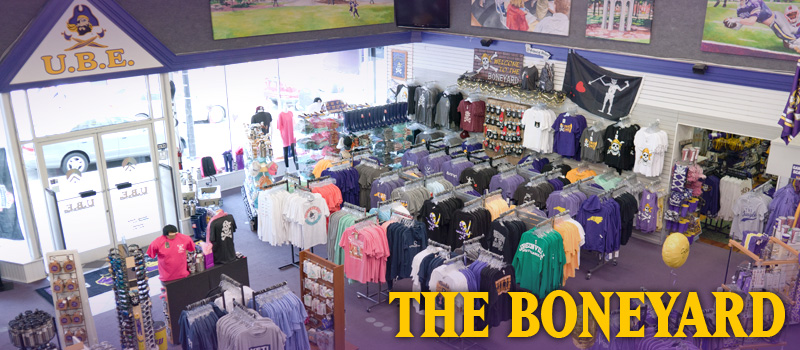 You'll find a variety of products when you visit The Boneyard at U.B.E. This department is divided into non-licensed apparel, school supplies, Uptown Art, and the largest selection of Greek paraphernalia in Greenville, NC.
Our non-licensed apparel ranges from "Tailgate Tees" to "Southern Styles."
Our most popular Tailgate/Gameday brand is Skully's Pirate Gear, a traditional, "before the Jolly Roger came around" brand, when there was another skull and crossbones that played a key part in Pirate lives. The Original Skully can be found on Mojo Sportswear tees and tanks in The Boneyard. Our other Tailgate brands include: House of Swank, Graphic Attack, and We Live for Saturdays.
Ladies, we didn't forget about you! We have all your Gameday needs! Tops from Gameday Girl Stuff and Southern Darlin' and jewelry and accessories from Occasionally Made, The Royal Standard, Ganz, and more!
Our Southern Styles include Southern Darlin', Southern Fried Cotton, Live Oak, Guy Harvey, Jarrett Bay, Yeti, Calcutta, and our newest addition, Beach & Barn.
Are you a local? We have tons of tees, decals, and flags to show your love for the 252 or North Carolina! Check out our newest tees and decals from 2FIVE2!
After you have your Textbooks, you'll need your school supplies!
We have a large selection of Officially Licensed and non-licensed notebooks, binders, and folders.
Don't forget about pens, pencils, study materials, computer accessories, office products, and planners!
Uptown Art, also located in The Boneyard, offers a large variety of supplies, tools, and materials for students at East Carolina University's School of Art and Design and Pitt Community College, as well as our local community artists. We focus on the needs of current students and the community.
You do not have to be an art student to shop Uptown Art… We have everything you'll need to complete all of your projects, such as: poster board, markers, paint, glue, etc. too!
Lately, we offer the largest Greek department in Eastern North Carolina!
We carry many items for all social fraternities and sororities at East Carolina University. We have hats, jewelry, glassware, cups, decals, and various gifts.
Need a letter shirt? We have it covered. We ask that ALL shirts, sweatshirts, etc. be supplied by the customer. Orders have a quick turn-around, on average taking up to two weeks. We have fabric that you can choose from in-store, but please note, if supplying your own fabric for letter cut-out, we ask that you bring extra fabric for our Greek employee to test in case your fabric is not adequate to be cut.
We offer a Greek Letter Station, where our employees can assist you with your paddle needs. We have letters of many sizes, symbols, crests, and multiple paddle sizes to make your paddle unique.
We offer products for the following Greek organizations:

Sororities:

Alpha Delta Pi
Alpha Omicron Pi
Alpha Phi
Alpha Xi Delta
Chi Omega
Delta Zeta
Kappa Delta
Phi Mu
Sigma Sigma Sigma
Zeta Tau Alpha
Fraternities:

Alpha Sigma Phi
Alpha Tau Omega
Beta Theta Pi
Chi Phi
Delta Chi
Delta Sigma Phi
Kappa Alpha
Kappa Sigma
Phi Gamma Delta
Phi Kappa Psi
Phi Kappa Tau
Pi Kappa Alpha
Pi Kappa Phi
Sigma Alpha Epsilon
Sigma Nu
Sigma Phi Epsilon
Sigma Pi
Sigma Tau Gamma
Tau Kappa Epsilon
Theta Chi
Divine 9

Alpha Kappa Alpha
Alpha Phi Alpha
Delta Sigma Theta
Kappa Alpha Psi
Omega Psi Phi
Phi Beta Sigma
Sigma Gamma Rho
Zeta Phi Beta
Service

Alpha Phi Omega
Epsilon Sigma Alpha
Gamma Sigma Sigma
Phi Sigma Pi