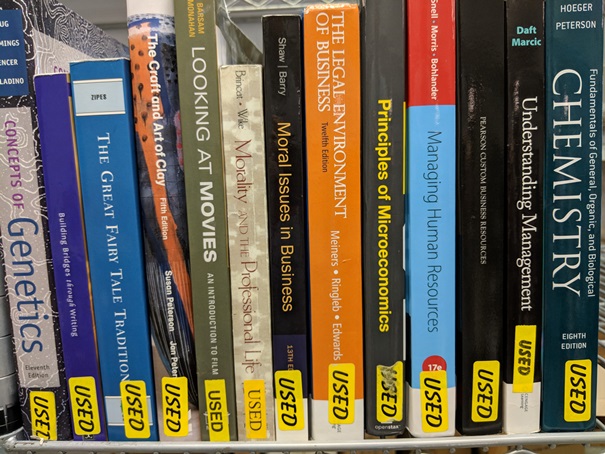 Sell Your Books * Buy or Rent Books * About Rental
ALL SUMMER RENTAL RETURNS ARE DUE BACK AT THE STORE BY THE END OF THE DAY ON
MONDAY, AUGUST 1
Book Sales are Open for the Fall 2022 Semester!
Click on the Buy or Rent Books link above to start shopping!
Please Note: Due to a technical snafu, Ebooks are not yet available for Fall Semester.
But they'll be up and running soon!
Extended Store Hours for Fall 2022:
To Be Determined
Last day for Refunds and Exchanges in Fall 2022:
Tuesday, August 31,2022
(requires receipt)
BOOK BUYBACK
Come in and get some green!
Come in and get CASH FOR BOOKS! Here at UBE, we buy books back the whole year round, but the end of the semester is a special time we call retail buyback.
At the end of the semester, when we are receiving book orders from professors for the next semester, we pay out up to one half the new price of the book if that book is going to be used next semester and we need copies of that title for the next semester. That means that a book that cost $100 new (or $75 used) might be worth as much as $50 in cash at buyback. Click on the "Sell Books" link to check book prices before you come in.
Even when we're not on retail, or when we are on retail but the book is not being used again or we have enough copies, we'll give you the best price from the three major book wholesalers, since we work with all of them.
The best time to sell your books is always at the end of a semester! At the beginning of the semester, we've already bought all the books we think we're going to need absent unusual circumstances.
Don't assume we won't buy it back before you talk to us. We buy back textbooks, including loose leaf textbooks, as well as unused access codes, as long as they have some value on the national wholesale market. We won't buy books with damaged covers or water damaged pages, but we'll be happy to look at anything you need us to.
Click here to see what your books are worth before you come in to the store.
Can't make it in to the store? Use our online buyback link instead, and sell your books to MBS via mail.